Brilliant Excel Dashboards: Pre-Built Dashboard Pack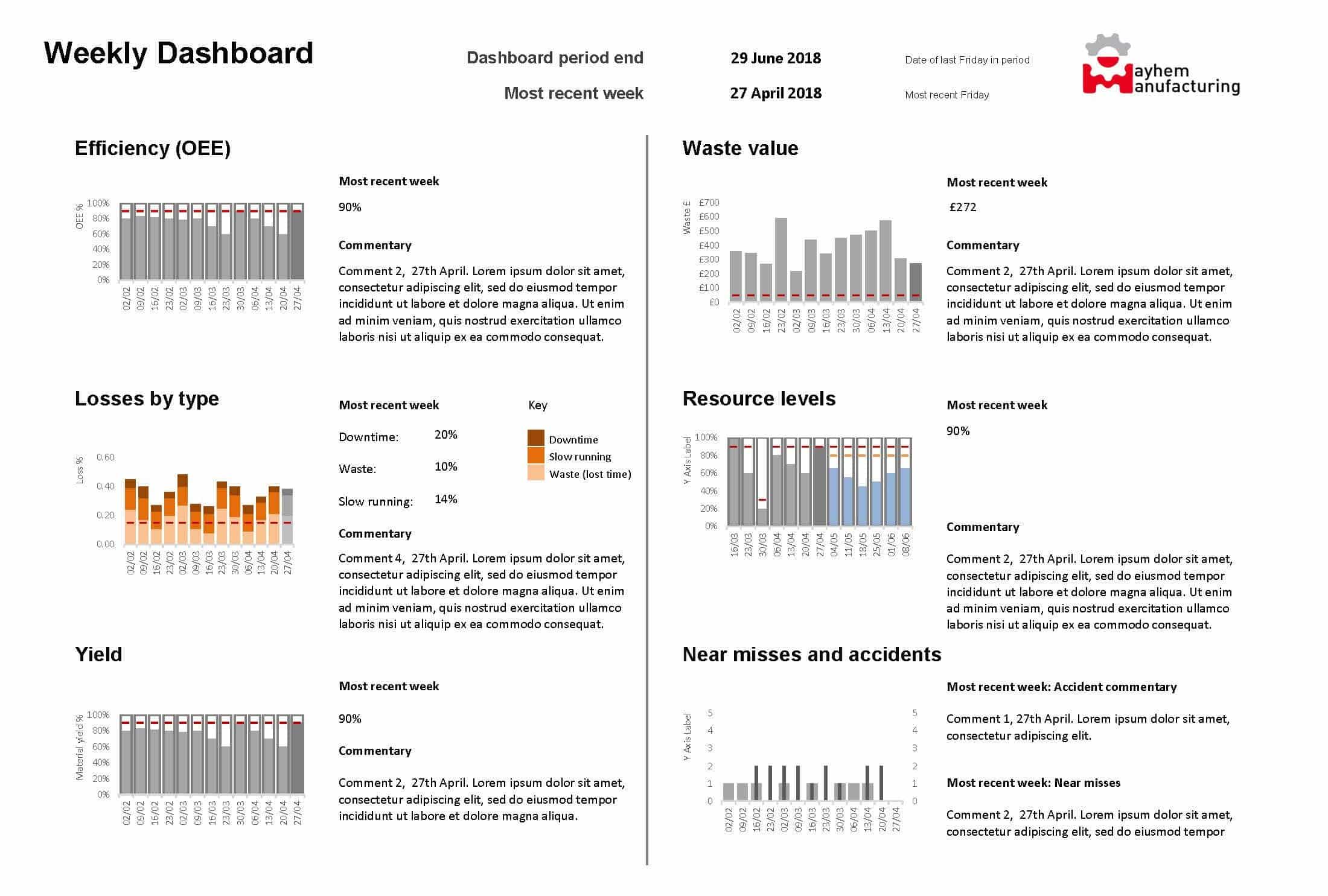 The Pre-Built Dashboard Pack includes three complete, fully working, dashboards. The dashboards have been built using the Brilliant Excel Dashboards System to give you a massive head-start if you need to build a dashboard and don't know where to start. You are free to modify and alter them however you see fit (but not resell the originals or modified versions).
Each Pre-Build Dashboard comes with two files...
The PowerPoint prototype version
The fully working Excel dashboard, with on-page design notes
What makes these templates so useful...
A powerful six-step dashboarding method
Each sheet comes with plenty of easy-to-understand notes and simple six-step method developed using years of practical experience.
By using one data entry sheet and a single presentation sheet for each dashboard chart source, the templates are easy to extend, modify and share without getting in a tangle. Colour coding and clear, consistent design stops you getting in a tangle when you come back to them months after build.
The design is kept as simple and easy to understand as possible. There are no macros, Visual Basic or plugins used, so these sheets are completely IT-department friendly.
Never re-range your charts
Each template is carefully designed to use a single cell to control the date range on all charts. The charts automatically re-range, with no dragging clicking or deleting of data required - decreasing the chance of careless errors and protecting your existing data. If you need to have different dates on the same sheet, it's easy to tweak and modify as needed.
1. Roughshod Repairs - Daily Operational Dashboard
Roughshod Repairs run a small contact centre and like to have a daily operational dashboard to tell them how they are coping and to review expected volumes for the coming days.
2. Mayhem Manufacturing - Weekly Production Dashboard
Mayhem manufacturing have a weekly operations meeting. This dashboard provides all essential discussion points for that meeting.
3. The Cat Herding Society - Monthly Performance Dashboard
The Cat Herding Society, an independent charity, have built a monthly dashboard to review donations, fund-raising performance and costs.
Reviews
Really powerful. I run a contract packing business. The manufacturing weekly dashboard was a great start point. We changed it quite a bit, but it was good not to have to start with a blank sheet. I like the way the charts self-range.
Alan
Write a Review