Brilliant Dashboards Value Pack – The Complete Kit
Save 70% over buying packs individually
Usual price £299, deal price just £89!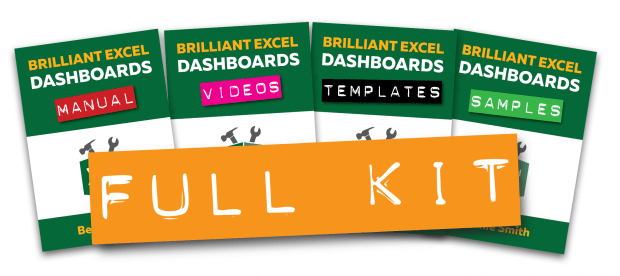 Included in the Full Kit...
Brilliant Excel Dashboards Templates Pack
The Dashboard Foundation Pack is the heart of the Brilliant Excel Dashboards Kit. The template kit enables you to create profession-looking dashboard prototypes in minutes. By using the pre-built chart and commentary designs in the Prototyping Guide and Toolkit, you can be confident that the final approved designs will be perfectly compatible with the Excel Template Foundation Pack (included). This pack enables you to build fantastic, easy-to-understand working Excel dashboards at least five times quicker than building a dashboard from scratch.
The finished dashboards don't just look fantastic, they are designed from the ground up using BlinkReporting method of chart design to give the reader the most rapid possible understanding of the information within the dashboard. The BlinkReporting approach applies cognitive-science-based design approach in an easy-to-use package. (Check out the Brilliant Excel Dashboards Manual for the inside track on this.)
The pack includes...
Prototyping Guide and Toolkit
Prototyping A4 Canvas
Prototyping A3 Canvas
Prototyping Letter Canvas
Prototyping Tabloid/Ledger Canvas
And...
Six high-quality Excel dashboard template kits (as .XLSX files*)
Monthly Dashboard Template Foundation pack - UK date format
Weekly Dashboard Template Foundation pack - UK date format
Daily Dashboard Template Foundation pack - UK date format
Monthly Dashboard Template Foundation pack - US date format
Weekly Dashboard Template Foundation pack - US date format
Daily Dashboard Template Foundation pack - US date format
*All templates require Microsoft Office 2016 or later
Includes full user guide in workbook.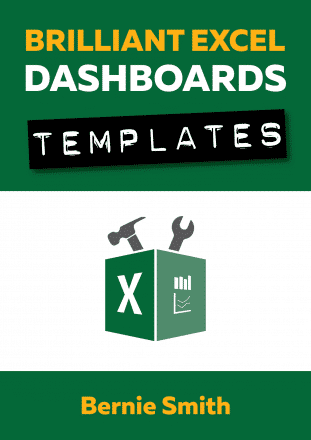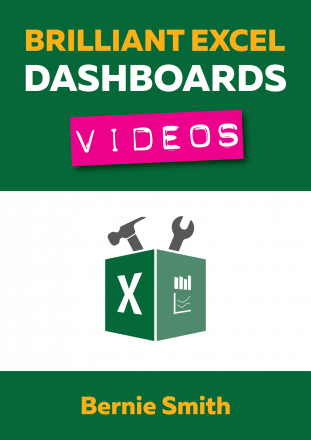 Brilliant Excel Dashboards Video Pack
Watch Bernie prototype and build the Chaos Coffee dashboard, explaining every step, technique and short-cut in 87 minutes of video with commentary. Learn how to build a dashboard five times faster and with extra confidence and a better finished product.
Watch Bernie take a simple list of KPIs and...
Build a prototype dashboard, then...
Build functioning Excel dashboard, using the Brilliant Excel Dashboard tools.
Bernie's never going to make it as an actor, but he does know his stuff when it comes to Excel, dashboards and building them quickly.
This pack includes two videos: Prototyping and Build
Run time
Prototyping - run time 30:53
Build -  run time 55:52
Delivery
Access to the videos is through a members-only page link sent to you after check-out. You can watch the videos on the page or download them watch offline any time.

Requirements
You need the Brilliant Excel Dashboards Foundation Template Pack to get best use from these videos
Brilliant Excel Dashboards Samples Pack
The Pre-Built Dashboard Pack includes three complete, fully working, dashboards. The dashboards have been built using the Brilliant Excel Dashboards System and you are free to modify and alter them however you see fit (but not resell the originals or modified versions).
Each Pre-Build Dashboard comes with two files...
The PowerPoint prototype version
The fully working Excel dashboard, with on-page design notes
1. Roughshod Repairs Contact Centre - Daily Operational Dashboard
Roughshod Repairs run a small contact centre and like to have a daily operational dashboard to tell them how they are coping and to review expected volumes for the coming days.
2. Mayhem Manufacturing - Weekly Production Dashboard
Mayhem manufacturing have a weekly operations meeting. This dashboard provides all essential discussion points for that meeting.
3. The Cat Herding Society - Monthly Performance Dashboard
The Cat Herding Society, an independent charity, have built a monthly dashboard to review donations, fund-raising performance and costs.
Save 70% over buying packs individually
Usual price £299, deal price just £89!
Reviews
I have to admit, I was a bit intimidated by the number of documents and templates included. Once I'd watched Bernie's demos it all became a lot clearer. Now I have the hang of the kit, it's a massive time saver – giving us a solid foundation for our company reporting.
I really like this kit as it's not an 'annual subscription' and there's no complex macros or VB. I just wish you would build some templates for manufacturing businesses to make setup even faster. I can see myself reusing this kit a lot over the coming years.
Write a Review