Add a header to begin generating the table of contents
This first example KPI Tree shows many of the core financial measures and outcomes for a typical organisation structured as a KPI Tree. What makes the KPI Tree approach so valuable in situations like this is showing how the KPIs interaction and which outcomes they drive. The beauty of this approach is that is also makes it easier to spot gaps and mistakes in our thinking, so if you see something you passionately disagree with why not get in touch.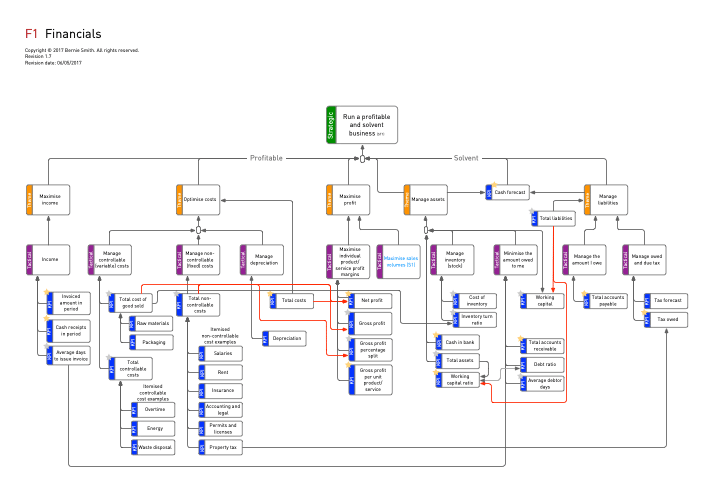 Service Improvement KPI Tree Example
This example KPI Tree show how we can rapidly develop the candidate metrics for an organisation that intends to improve the service it offers. Remember, we are not committing to measuring all of these KPIs, this step is what we call long-listing, part of the Results-Orientated KPI System . Once we have built our tree, we use the shortlisting approach to cut the list down to the most useful and practical set of KPIs.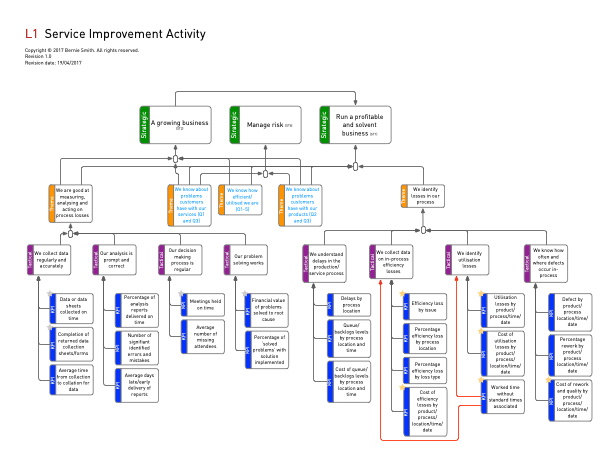 Product Quality KPI Tree Example
Our final example KPI Tree is for Product Quality. This would be the start point for a business with physical products that wants to set up meaning measures of product quality.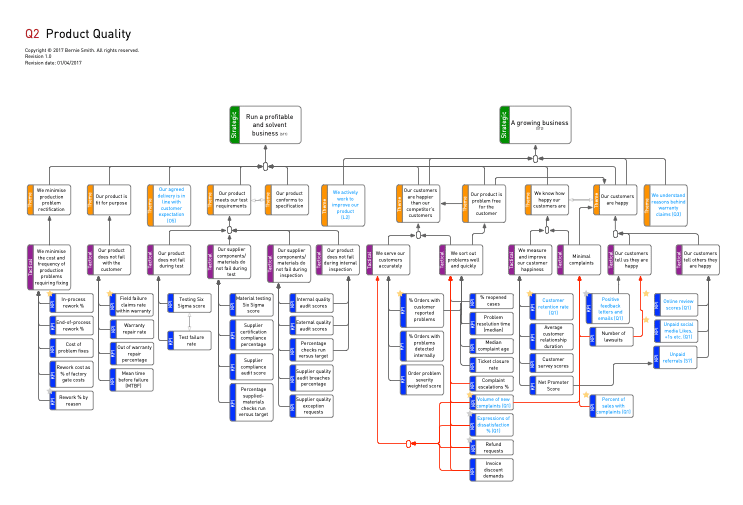 For a full guide on building your own KPI tress check out our ultimate KPI Tree build guide.
The three KPI Trees that have been shared here are extracts from a library of 52 pre-built Trees that are part of the ROKS KPI Tree Library. ROKS KPI Black Belt students have full access to all 52 KPI Trees and over 400 full KPI definitions.
The KPI Starter pack gives you the tools you need to start building your own KPI Trees straight away. That pack contains...
Sample KPI Tree PDFs...
Service Quality KPI Tree
Complaints and Incident Handling KPI Tree
Finance KPI Tree
KPI Tree Templates
Visio KPI Tree Template (for Windows users, desktop Visio only, not cloud)
OmniGraffle (for MacOS users)
PowerPoint template (for simple KPI Trees on any platform that supports Microsoft Office)
Sometimes you just need a menu of good KPIs to pick from. That's what this 'Essential KPIs' series of guides are designed to provide. The problem is that not every business is the same.
So, how do you make sure you fully understand where the KPIs in this pack came from and identify any extra KPIs that may be specific to your organisation? You do this using KPI Trees show the outcomes that each KPI is designed to reflect, so you can understand the logic and reasoning behind each and every KPI in the pack and build on it to identify KPIs specific to your organisation.