Ultimate KPI Tree Guide - How to Build Powerful KPI Trees
KPI Tree Basics
What is a KPI Tree?
A KPI Tree is a powerful visualisation method that allows an organisation's objectives to be broken down into more granular outcomes and relevant KPIs (key performance indicators), or metrics, to track those outcomes using a clear hierarchy. KPI Trees also enable you to visualise complex relationships, conflicts and interdependencies within an organisation.
The KPI Tree method was devised by Bernie Smith in 2007 and first appeared in KPI Checklists (published 2013). It is the 'longlisting' step of the ROKS Enterprise KPI selection approach.
Why use a KPI Tree?
Most strategic objectives are high-level outcomes. It's very hard to agree with total confidence that you should, for example, measure 'process moisture content' as a way of delivering 'lowest cost per metre production of all manufacturers' unless you understand precisely how one links to the other. KPI Trees are all about turning strategic objectives into meaningful key performance indicators.
What does a KPI Tree look like?
Here's an example I have developed for training. This one is fully fleshed-out and is for the strategic objective that pretty much everyone can buy-into - 'Be Healthy'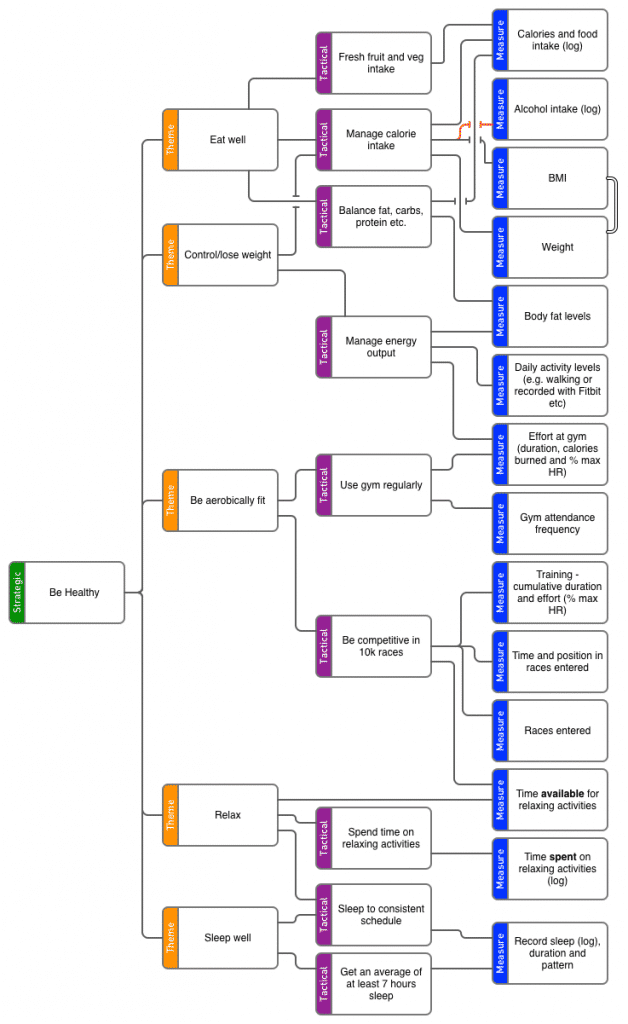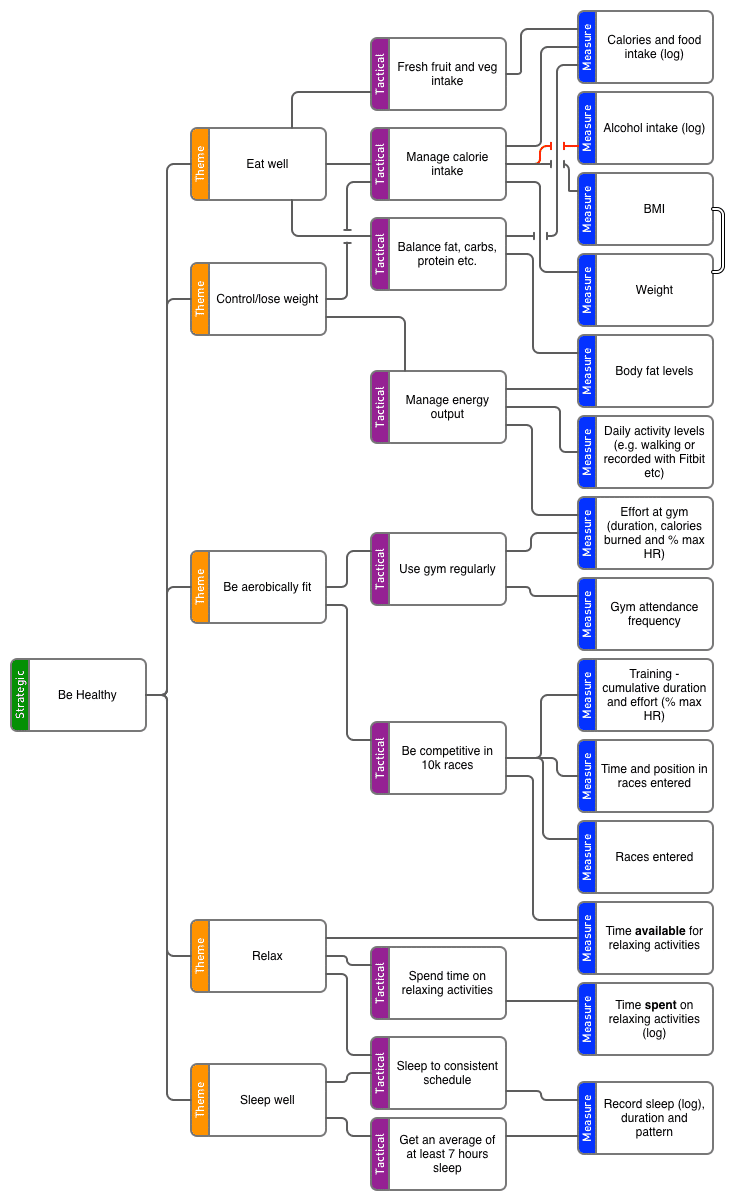 Build a powerful KPI tree in 7 simple steps
KPI Trees are powerful and easy to read, but building them can be a little tricky the first few times you do it. Follow these seven steps for a tried-and-tested approach to build your KPI Trees. 

Typical time to draft a KPI Tree: 2 hours
Things you will need
A vector drawing tool. PowerPoint (basic trees), Visio or Omnigraffle (advanced)
Your strategy or objectives
ROKS KPI Tree Method
Watch 'How to Build a KPI Tree' Webinar free now!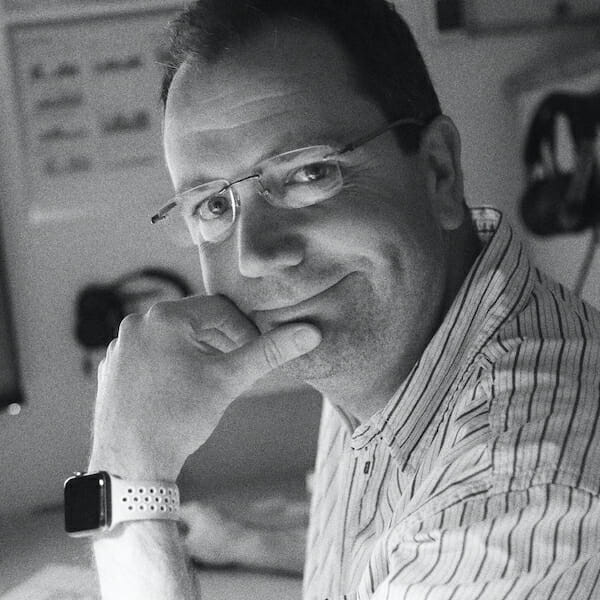 A 40 minute session covering...
What KPI Trees are and when to use them
Demonstration, building a real-world KPI Tree
Five tips on getting the most from your KPI Trees
The session will include useful free downloads and some a brilliant offer on my KPI Tree Starter Pack, which includes powerful cheat-sheets and completed KPI tree examples.
What are the benefits of KPI Trees?
Benefit 1 - Sum up a complex situation with just a few indicators
With the KPI Tree you naturally arrange target KPIs into meaningful groups, in a clear hierarchy. Creating high-level summary measures becomes relatively straightforward, as all you need to do is decide on the relative weightings and the arithmetic you use to blend the sub-measures.
Benefit 2 - Help build agreement
Every client I have worked with has featured a dominant character in the group. They can bounce a group into a particular set of measures through a mixture of rational argument and strength of will. Creating a KPI Tree avoids this through a highly collaborative series of sessions. It also gives a tool, clear structure and visible output that anyone can easily challenge and question.
Benefit 3 - Explain the approach
It normally takes two two-hour workshops to get a group up to speed and to successfully create a complex KPI Tree, but it's possible to get a group to grasp how to read one with about five minutes of explanation. It can also become a powerful way for the executive to explain their strategy in terms that a group can really understand. It shows a depth, coherence and clarity of thought that's rare when it comes to strategy and measures.
Benefit 4 - Keep in step with changes in strategy
Businesses, markets and executive teams change. It's absolutely guaranteed that, if you are lucky enough to have a good strategy, it will have to change - possibly very soon. Using the KPI Tree approach means that you can see what impact changes in the strategy will have on measures.
Benefit 5 - Understand how measures interact
You can have too much of a good thing. It's especially true in the world of measures. Measures can often be driven by mutually exclusive goals. By pushing a 'good' measure too far you can unexpectedly have a negative impact on your ultimate strategic objective.
All of these benefits help you choose meaningful and effective KPIs. If you don't use an approach like this then your KPIs are normally selected by the person with the loudest voice or strongest personality.
The main challenge with KPI Trees is that they can rapidly generate a very long list of relevant potential performance measures. This is why KPI Trees design process is followed by the Shortlisting step in the ROKS method. The Shortlisting step allows the most important and practical candidate measures to be identified in a structured way.
KPI Trees were invented in 2011 by Bernie Smith. They were first described in KPI Checklists in 2013. They build on the concept of driver trees (from P-M Analysis, part of the Toyota Product System) and the Strategy Maps approach developed by Kaplan and Norton. The KPI Tree approach and notation has been structured to specifically assist in identifying all the KPIs that an organisation should consider, quickly and simply.
Sometimes it is hard to tell whether the specific value of a certain important KPI is good or bad. For example, if 54% of our staff ticked the 'Very happy' box in response to 'How happy are you in your job?', is this a good or bad figure? You could benchmark against other organisations, but that brings in a whole host of other variables.
Alternatively, we can safely say that a score of 40% would be a drop in performance and 65% would represent a significant improvement. This would make this key performance indictor 'directional'. We don't have an absolute reference point, but it can still be useful.
KPI Tree 3 minute explainer video...
KPI Tree examples
Profit - KPI Tree Branch
Here's an example of it all being put together. It's the 'profit branch' from a Financial KPI Tree I built for my latest book. Signup using the form below if you would like the full tree sending to you by email as a PDF. The downloadable version includes 'solvency' branch too.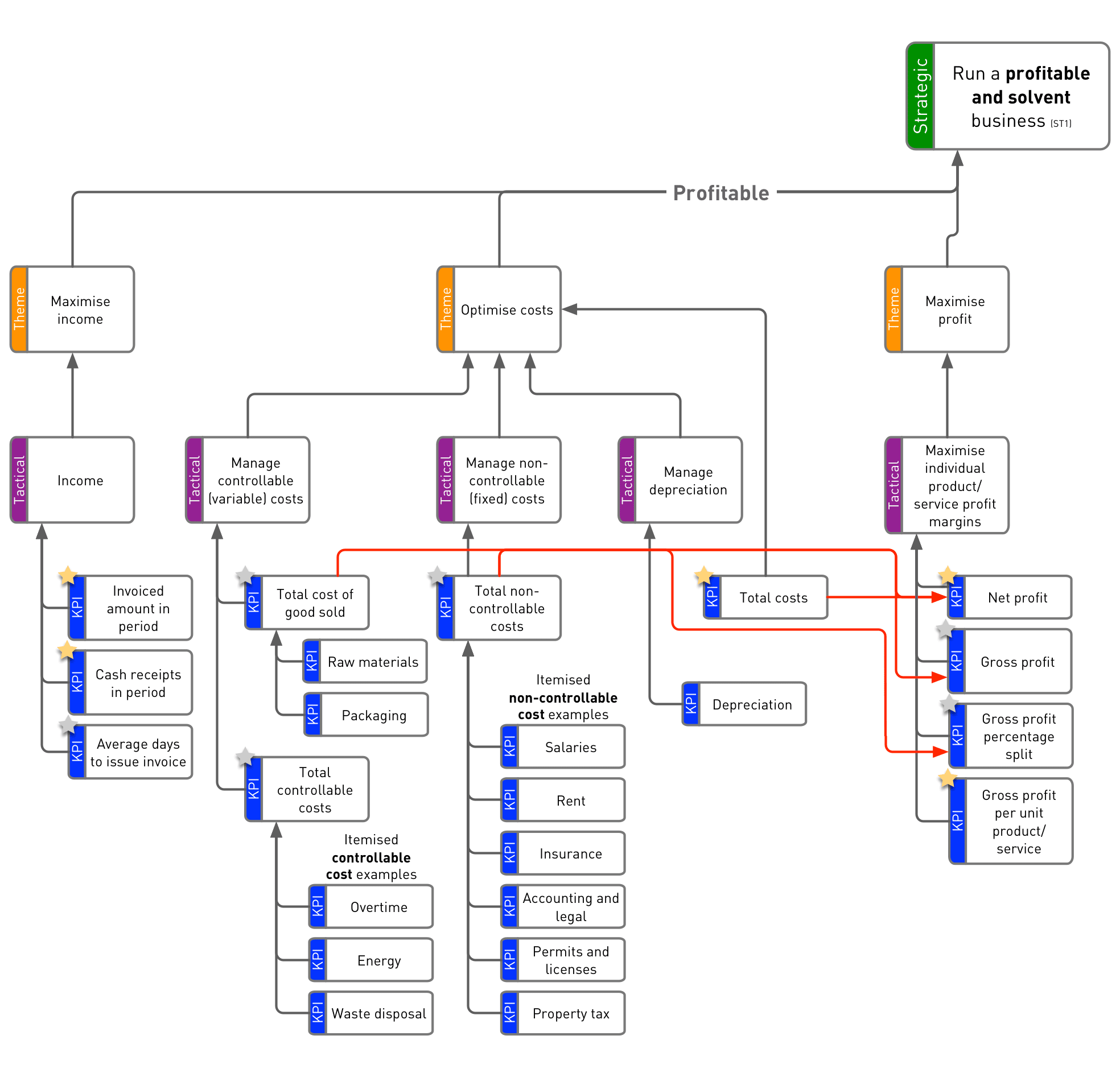 More free KPI Tree examples
Head here for more free KPI Tree examples covering finance, service improvement and product quality. Don't forget there's a huge range available in the KPI Tree store too.
Where can you use KPI Trees?
The only requirement for a KPI Tree is that you can clearly state the outcome you want - so what you want to happen. That makes the KPI Tree approach hugely powerful and flexible. You can use them to design KPIs for everything from product management through to innovation and entrepreneurship. Head to our KPI Tree store for inspiration and helpful pre-built packs.
Here's a useful checklist for the process of creating a KPI Tree...
KPI Tree Checklist 1- Preparation checklist
Become fully familiar with the strategy of your organisation.
Become fully familiar with the strategic objectives of your organisation.
Double-check those strategic objectives with all engaged senior stakeholders - if there are differences then they must be ironed out before the sessions.
Check that there are between two and seven strategic objectives - if there are more than this, it is likely that lower-level tactical objectives are in the mix.
Gain support and approval to hold a session from senior stakeholder(s).
Pull together some example outputs from previous sessions (or use the examples included in this book).
Gather your stakeholders together in groups.
Select groups of between three and nine people per session (certainly no more than twelve).
Select group to have a good mix of seniority.
Organise two two-hour long workshop sessions, separated by between one and five working days.
KPI Tree Checklist 2- Practicalities checklist
Book meeting rooms for both sessions.
Create briefing email and send out invitations.
Base group selection around broadly similar remits.
Make sure there are desks available for them to work at.
Ensure a whiteboard is available, if possible.
Print out examples and worksheets.
Take Post-Its and pens to the session. A camera phone can also be useful.
KPI Tree Checklist 3 - The first session checklist
Explain the approach.
Identify the strategic objectives - agree these with the group.
Give the background to the session.
Show a finished example.
Get the group to do a simple (non-work) exercise example.
Explain the three link types: cause-effect, conflict and companion.
Help the group work through a more complex non-work example, including link types.
Get the group to develop a draft KPI Tree specific to the group's relevant organisational strategic objectives.
Develop one tree per objective. The trees will almost certainly cross-link so it makes sense to create them using one large sheet if possible.
Tip: If the participants start to get anxious about the number of potential measures this process is throwing up, then it's worth reassuring them that the whole point of this step is to generate the longlist of measures. You will absolutely not simply take this longlist and attempt to implement it as it stands at the end of this session. There is a critical next step which involves shortlisting candidate measures.
Follow-up work
Write up the trees from all groups and merge into one tree.
Add notes to show where decisions have had to be made on the merge.
KPI Tree Checklist 4- The second session checklist
Review the merged tree.
Are there important factors that will not register with any of the measures identified? If so, then you have missed something out of your tree.
Is there a way of making a measure go the `right' way, but by doing something stupid?
Add any further branches that need adding.
Make corrections and discuss the merged tree.
The second session is normally quite straightforward as the group will be fresh, familiar with the purpose of the session and used to working as a group.
Follow up work
Finish drawing up the trees from the second session (there may be several trees, but there should be only one version for each objective, the various versions having been merged after the first session).
Add explanatory notes as needed.
Circulate to the participants for final approval. State that the absence of a response will be taken as implicit approval.
Tools for building KPI Trees
There are several choices for drawing diagrams. Key points you need to consider when choosing one are:
Does the read/edit software have to be a standard desktop application (like Microsoft Word or PowerPoint) or do you have the chance to install specialist applications like Visio or Aris?
What is the IT skill level of the users?
Do you have to attach meta-data to objects? If so, you will need to go for a more specialist diagram package e.g. Visio.
Is there a company standard currently in use for this type of diagram? E.g. Mindjet, mind mapping software.
Will the software be used on a variety of operating systems? Some applications like OpenOffice, Freemind and Mindjet cover two or more operating systems. Others, such as Visio, tie you firmly to one platform.
What level of annotation and general sophistication are you looking for? How many nodes/branches do you need to fit in?
For more practical, concise advice on KPI Trees and choosing the best KPIs, check out my book KPI Checklists 
I have built my KPI Tree, now what?
KPI Trees are just one step in the ROKS approach (ROKS stands for 'Results Orientated KPI System'). KPI Trees provide the 'longlist' of potential KPIs.
Here are some additional resources to understand the ROKS approach in more depth...
If you are a bit impatient here are the headlines for the following steps...
The right way to get buy-in for your new KPIs
A quick way to spot gaps and errors is to invite a range of team members who will be using the KPIs we are designing (if they aren't involved already) and ask them...
"Thinking about the last few problems you had hit your desk, where would they show up on this tree?"
If the tree is well-designed, you should expect the impact of every issue to show on a least one of the metrics you have identified. If it doesn't, then you have probably missed a branch or two off your tree.
Remeber, KPIs will not solve problems for you, but they should indicate when a problem occurs.
Need a KPI Tree head-start?
Many organisations have elements of their business that are very similar to those of other organisations. Financial, operational and HR KPIs, for example, will show many similar characteristics whatever the organisation. Based on 52 identified 'traits', or similarities across all organisations, we have built 52 KPI Trees. From those foundation KPI Trees we have identified the most important KPI Tree metrics and defined these fully for you, using a selection of fictitious companies. You can now buy 13 of the most popular packs, including the source KPI Trees, valuable supporting templates and full printable KPI definitions.
Watch my free webinar now: How to Build a KPI Tree
40 minutes of KPI Tree building goodness. For free.
Need help building your KPI Trees?
Bernie regularly helps clients build custom KPI Trees. This can be done remotely or on-site. Get in touch using the form below for a free initial chat about your needs.